FREE MOUNTAIN FLYING SEMINAR - COLORADO ROCKIES
Join Signature on Saturday, April 8th at 1000L for a free seminar in Vail, Colorado


Register Now
Join Signature Aviation and Vail Valley Jet Center for a free and informative seminar for pilots on the complexities of navigating your airplane, big or small, in Colorado's ski country. We'll cover the essentials of flight planning, changing mountain weather, and tips and tricks to help you traverse some of the world's most challenging, yet rewarding, terrain.
Plus, Vail Valley Jet Center will provide a free brunch for attendees and will waive service fees for aircraft flying in to the Eagle Country Regional Airport for the day of the event.
Who Should Attend?
Private pilots
Flight students
Local professional flight crews
Frequent flyers to Eagle County (EGE), Aspen (ASE), and Rifle (RIL)
Topics
Weather resources and handling ridge and upslope lift, roll cloud, and turbulence associated with mountain wave phenomenon
Minimizing risk from mountain winds during landing
Review of ForeFlight planning and enroute tools for VFR and IFR flights
High altitude performance for single-engine and multi-engine aircraft
Route planning to and from special Colorado airports
About our Speaker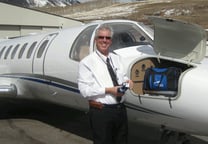 David Cole is an aviation manager, FAA inspector, Line Check Airman, and former commercial airline pilot that calls Colorado home. Over his 30+ year career, he has held a diverse array of operational and consultation positions, including as a flight crew member, flight instructor, corporate director, and airport manager.
He is an ATP rated pilot and holds type ratings in 9 aircraft models including the Convair 440, Cessna Citation series, and Boeing 747. Nowadays, he can be frequently found in skies above the Rocky Mountains in a piston aircraft.